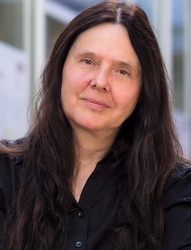 Prof. Evamarie Hey-Hawkins
Evamarie Hey-Hawkins has been the Chair in Inorganic Chemistry at Leipzig University, Germany, since 1993. She has held positions at universities in the UK, Australia and Germany and visiting professorships in several countries. Her scientific interests are manifold and comprise inorganic/organometallic chemistry, organophosphorus chemistry, biologically active boron and transition metal compounds, heterometallic transition metal complexes and catalysis. She has published more than 550 papers and given about 370 lectures worldwide. More than 85 doctoral students have already graduated from her group.
She has received several awards including the "Distinguished Woman in Chemistry and Chemical Engineering" award by IUPAC (2013), the Nenitescu Medal (2016), two honorary doctoral degrees, the Order of Merit of the Free State of Saxony, Germany (2017), the Leipzig Science Award (2019), and the University Medal of Leipzig University (2018). Is an elected fellow of the European Academy of Sciences since 2018 and the European Academy of Sciences and Arts since 2021. In 2021, she received the prestigious Karl Ziegler Prize of the Karl Ziegler Foundation (managed in trust by the GDCh).
From 2007 to 2017, she has been the Speaker and since 2018 she is the Vice-Speaker of the Graduate School "Building with Molecules and Nano-objects" (BuildMoNa). From 2008 to 2013, she has been the Chair of the EU-COST Action CM0802 "European Phosphorus Sciences Network" (PhoSciNet), and from 2013 to 2018, she has chaired a COST Action on "Smart Inorganic Polymers" (CM1302, SIPs). Presently, she is the vice president of the German Society on Boron Neutron Capture Therapy and Chair of the Working Group on Phosphorus Chemistry under the umbrella of the German Chemical Society (GDCh).